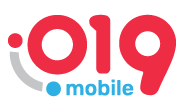 019Mobile
019Mobile is an Israeli Mobile operator that providers international communication services.
In 2010, the Telzar company received a permit from The Ministry of Communications to act as an international calls operator.
019 was the international calling prefix that the company received, and appropriately, it has since been renamed to 019Mobile.
The company was founded by three brothers who recognized the need for pre-paid call cards for the foreign workers who worked at their parents' farm. The same three brothers manage the company to this day.
To date, the company provides service to over 200,000 users.
In 2017, the company began selling local SIM cards for tourists and foreign workers arriving in Israel, as well as SIM cards for Israelis who are travelling abroad.
The cooperative effort between GMT and 019Mobile compliments GMT's set of services for foreign workers and for international travelers.
In each one of the 250 GMT branches available across the country, you could purchase a SIM card and a pre-paid package that would suit your needs:
Purchasing a SIM card without a service package.

Purchase unlimited service packages for 30 days, with differing data volumes per your requirements.

Data-only packages at varying prices.

Reloading funds to your SIM cards.