Say Hello to myGMT – your personal area and is available to you; anytime, anywhere

Send money abroad and pay by credit card from the comfort of your home

Visit a GMT branch only to complete the payment

Watch your actions history

Check the status of previous transactions
Signing up for myGMT is simple and easy.
As with any financial service, you will be asked to register your personal details in English and add two identifying documents. Then, we will ask you to verify your phone number via text message.
After our customer service confirms the information, your personal area will be ready (yay!), And you can start seeing your transactions history, checking transaction status, and a variety of options.
Wait, there is more… myGMT customers enjoy unique benefits and discounts.
More details you should know
If you are already a GMT customer, please enter your ID number or passport and your phone number and start the registration. If the information does not match, we will show you an error message. If necessary, please contact our customer service, and we will be happy to help.
After the registration, we will build your personal zone within a few hours. In the meanwhile, you can send money and make other actions. We will let you know when your area is ready.
On your personal page, you can see your transactions history and check the status of previous transactions.
Money transfers on the site are made using the MoneyGram system. If the payment is made by credit card, it is possible to send up to 1300 Dollar or Euro in a period of one month and up to 4 transfers in total. If the payment is in cash and is made at one of the GMT branches, you can usually send up to $7,000 a day.
Registration is done in English. It is essential that your details will be registered precisely as they are listed in your passport or driving license. If you are having trouble, we are here for you.
Registration will require you to add your occupation details and country of origin. Pay attention! These are crucial elements for transferring money with MoneyGram. The good news is that you need to fill in the details only once when you sign up.3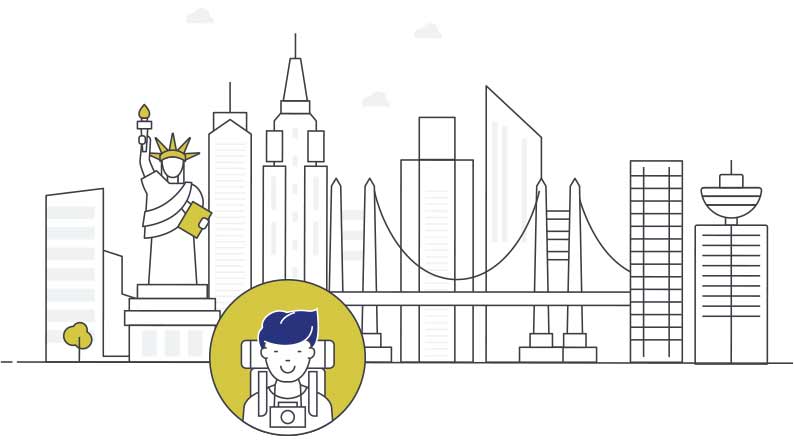 Sending money abroad is easy
The use of myGMT is convenient, simple, easy and fast.
You can pay directly on the website by credit card or visit any of our branches and complete the payment in cash.
Money transfers on the site are sent via the MoneyGram system, and the money can be collected abroad within a few minutes with a Reference number.
We are always thinking of new services we can provide. Here are some examples of what we are working on, that will leave you with a taste for more:
Prepaid cards
Order foreign currency to Ben-Gurion Airport
Checking status of incoming transactions to Israel
Booking travel insurance
Ordering medical insurance for foreign workers
And more
After registration, all you have to do is fill in the details of the transfer, amount and destination, fill out the beneficiary's details abroad in English and choose the payment method that is preferred and convenient for you.
You can pay with a credit card directly on the website, or pay in cash at any of the GMT branches throughout Israel.
Yes, it's that easy.
A few more important details
When sending to a country whose official currency is not a Dollar or Euro, you can see the conversion rate and the amount received to the beneficiary abroad.
If you choose to pay cash, the foreign exchange rate will be determined once you complete the payment at the GMT location.
You can cancel a transfer to collect cash abroad as long as the money has not been collected by the beneficiary abroad. In addition, as long as the money is not collected, you can change the name of the recipient.
Once the transfer information is set, and you wish to pay in cash; All you need to do is go to a GMT branch and complete the payment.
This way, you save time, and the whole process is, you guessed it, simple and easy!
If you are not currently in Israel and live far away from the branch / cannot / do not want to go to the branch, you can pay by credit card.
All transfers on the site are sent via the MoneyGram system. If you wish to send via another system, you can go to one of our branches for service.
Money transfers from the site are sent via the MoneyGram system. Your recipient can withdraw money at the destination of any MoneyGram. You can find all the locations right here
When one video is better than a thousand words
myGMT Registration Guide
Learn how to register and start using the new myGMT app for transferring money from Israel to other countries
myGMT – Online Money Transfers from Israel
Transfer money from Israel to any destination with a fast and secure online app
Was this post helpful?
Let us know if you liked the post. That's the only way we can improve.